Last month, we selected the second occupant for our Housing Pilot! Last year, we began leasing an apartment for young adults struggling with housing stability. Our newest resident, Chris, is a determined young man who is working while also going to Texas State full-time.
Even with his committed work ethic, he fell behind on rent trying to balance all of his expenses and inevitably Chris received a notice to vacate from his last apartment. While Chris found himself couch-surfing, we found our apartment for our housing pilot ready for it's second resident.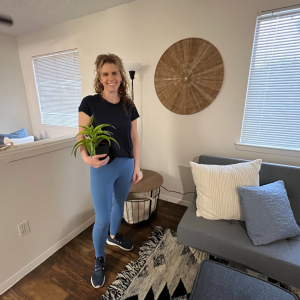 We quickly collaborated with our partners so that Chris could move in ASAP! Hannah Nokes, owner of Bunny Run Design, has been a pivotal part of making this apartment feel like home for the youth moving in.
"In my work with Bunny Run Design, I love to create homes that not only nurture the people who live there but also inspire them to connect and serve by inviting others in."
With Hannah's eye for creating a serene space, and efficient volunteers from Tex-Mix Concrete assembling furniture we had Chris at home in no time at all!
We could not have done this without the support of our amazing community – Hannah said it best. "I love that Foster Angels is continuing to support young people as they transition to college and the workforce. Having a safe, restful place to live will give them a springboard to the rest of their lives. I can't wait to see how we can expand the program to serve more kids!"