Frequently Asked Questions
Who can request resources from Foster Angels?
While most of our requests come from the Department of Child Protective Services, anyone in a child's circle of support can request resources from a child placement agency. (ie. a CASA volunteer, child placement agency case manager, teacher, nurse etc.) Foster youth or former foster youth can also submit a request for assistance as well.
How do I make a Foster Angels request?
Complete the online Foster Angels request form. Someone from the Foster Angels program team will contact you within two business days on the next steps.
What is the service area of Foster Angels of Central Texas?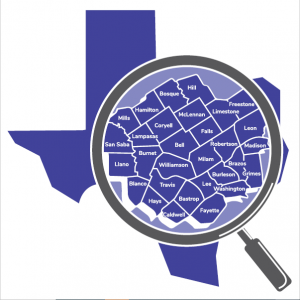 Foster Angels of Central Texas serves region seven, as defined by the Department of Family and Child Protective Services. This region includes 30 counties in Central Texas.  Our physical office is in Austin, Texas.  There is also Foster Angels of South Texas that serves region 11 and is based out of Corpus Christi, Texas.
Which types of foster placements can receive assistance from Foster Angels?
Any child in care whether they are in a traditional foster home, residential treatment center, permanency, or kinship placement can request resources from Foster Angels. We also accept requests from young adults who are in extended care and those who have aged out. 
Does Foster Angels fund requests based on need?
Foster Angels does not ask for biological or foster parent's income when filling requests and will provide assistance to any child in foster care as long as the need falls within our focus areas and the request is approved through our vetting process with DFPS.
What resources does Foster Angels offer to a former or aged out foster youth?
Through our Guide to Thrive program, we provide general assistance to ensure youth transitioning out of care have their basic needs met. In addition, our Youth Support Manager meets with any youth that submits a request to provide any additional support they might need in the way of budgeting, access to resources, etc. We also have a scholarship program that provides assistance to former or current youth in foster care attending college and our Keys to Success Program that helps youth buy their first car through a savings-match program.
How can an aged out foster youth make a request?
Is Foster Angels a 501(c)3 organization?
Yes. Foster Angels of Central Texas has had 501(c)3 status since February 26, 2010, and is tax-exempt.
You can see our official Letter of Determination here. 
Can I donate used clothing/items to Foster Angels?
Foster Angels only takes BRAND NEW clothing, gifts, electronics, or items.  The only gently used items we take from time to time is a furniture item and some baby gear.  If you are looking for an agency to take your gently-used donations, we recommend contacting Settlement Home, Foster Village, or Goodwill.
If you do make an in-kind donation and need an acknowledgment fill out this form and we will get back to you as soon as possible.
What are the most-needed items Foster Angels needs to be donated?
Foster Angels rely on gift cards year-round to allow for flexibility and also give youth the opportunity to select their own items that help increase their self-esteem.  In addition to gift cards, Foster Angels collect school supplies, backpacks, tablets, and laptops year-round.  We have a variety of wishlists available throughout the year that you can make direct purchases for specific items which can be found under Get Involved.
How is Foster Angels funded?
Foster Angels is funded through foundations, corporate partnerships, and individuals.
How much of my donation goes towards programming?
In 2021, 87% of donations went to fund our programs, 7% were used for fundraising and 5% went towards administrative costs. 
How can I volunteer with Foster Angels on a regular basis?
We can always use administrative help during our office hours on Tuesdays and Thursdays from 9:30 a.m. – 2:30 p.m. However, the availability of these shifts is limited!
How can I sign up for a volunteer shift for the Toys for Teens or Back to School drives?
Each year we host a backpack drive over the summer, that is made possible largely by volunteers. Volunteer shift availability is posted here every summer. In addition, if you would like to volunteer to shop, organize or wrap presents for our holiday drive please check our Toys for Teens page in November to sign up. These shifts do fill up quickly each year!
What are the qualifications to become a mentor?
We are always looking for caring people who are interested in mentoring young adults who have aged out of care. If you can offer guidance and support to one of our youth as they navigate life beyond foster care and work towards their goals please fill out our mentor questionnaire and you will be contacted by our Youth Support Manager, Sarah Crocker.
General Questions About Foster Care
How do I become a foster parent?
Foster Angels is not a child placement agency. To learn more about foster parent information sessions and the best child placement agency for you and/or your family fill out the interest form on the Foster Community website.
How can I get licensed for respite care?
Respite care is a huge need for foster parents that need babysitters. There is an initiative through Fostering Hope that will get you licensed to be a respite caregiver through all child placement agencies. You can also get more information by filling out an interest form on the Foster Community website.