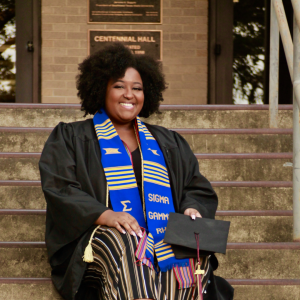 In May 2020, the Foster Angels Bright Angel Scholar program had our first graduate, Amber Alston, and last week we sat down with her to check in on how she's doing almost two years later. Almost two years ago, Amber graduated with her bachelor's degree in communication studies with a focus in organizational communication and a minor in mass communication from Texas State University. 
While many of us have plans when we graduate from college, more often than not those plans get reimagined by ever-evolving circumstances. However, Amber did exactly what she set out to do on her graduation day. She worked for a year in recruiting and as an accounting assistant to save money and is back at Texas State University to get her Master's of Arts in Communications Studies. 
When we asked Amber what she is most excited about as she looks forward to graduating with a  master's degree in the spring of 2023, one thing, in particular, she looks forward to is walking the stage. Along with Amber's great accomplishments in May 2020 also came canceled ceremonies amid the coronavirus pandemic. Not having that ceremony to celebrate her accomplishments, like graduating summa cum laude, was devastating and she is so looking forward to having a "real" graduation.
While Amber is an ongoing success story who continues to impress everyone around her – it is important to realize that she has not done this alone. It has been our privilege to be included in her circle of support, and we hope incoming scholars can look to Amber as someone to look up to. Not only as a success story of this program but also as someone to model finding a support system similar to hers in applying to the Bright Angel Scholarship.
As we spoke with Amber about her time in the Bright Angel program and the most impactful moments it had on her college career, of course, the additional funds and the comfort that brought her to focus on schoolwork were a huge focal point. However, it wasn't the very first thing she said. Her words "I wouldn't have known where to make the connections" speak volumes about the impact this program has on our students. Having a mentor, the Foster Angels staff, and the continued support even beyond the scholarship has been invaluable in her navigating the challenging but rewarding college ecosystem.
Ultimately, Amber says that without the scholarship it would have been much more difficult to edge herself into adulthood.
So what's next for Amber once she receives her master's degree? Her plans, for now, include (but should NOT be limited to) teaching and helping people, doing research in family communication, working in foster care advocacy, and ultimately seeing how those collide in the world of communication studies. If there is one thing we know – it is that Amber can and will achieve all that she sets her mind to.
Amber's parting piece of advice for anyone thinking of applying to the Bright Angel Scholars program is "Take the risk – because if you don't think you are going to get it, you just might."
The application to be considered in the new class of Bright Angel Scholars opens Monday, April 18th.